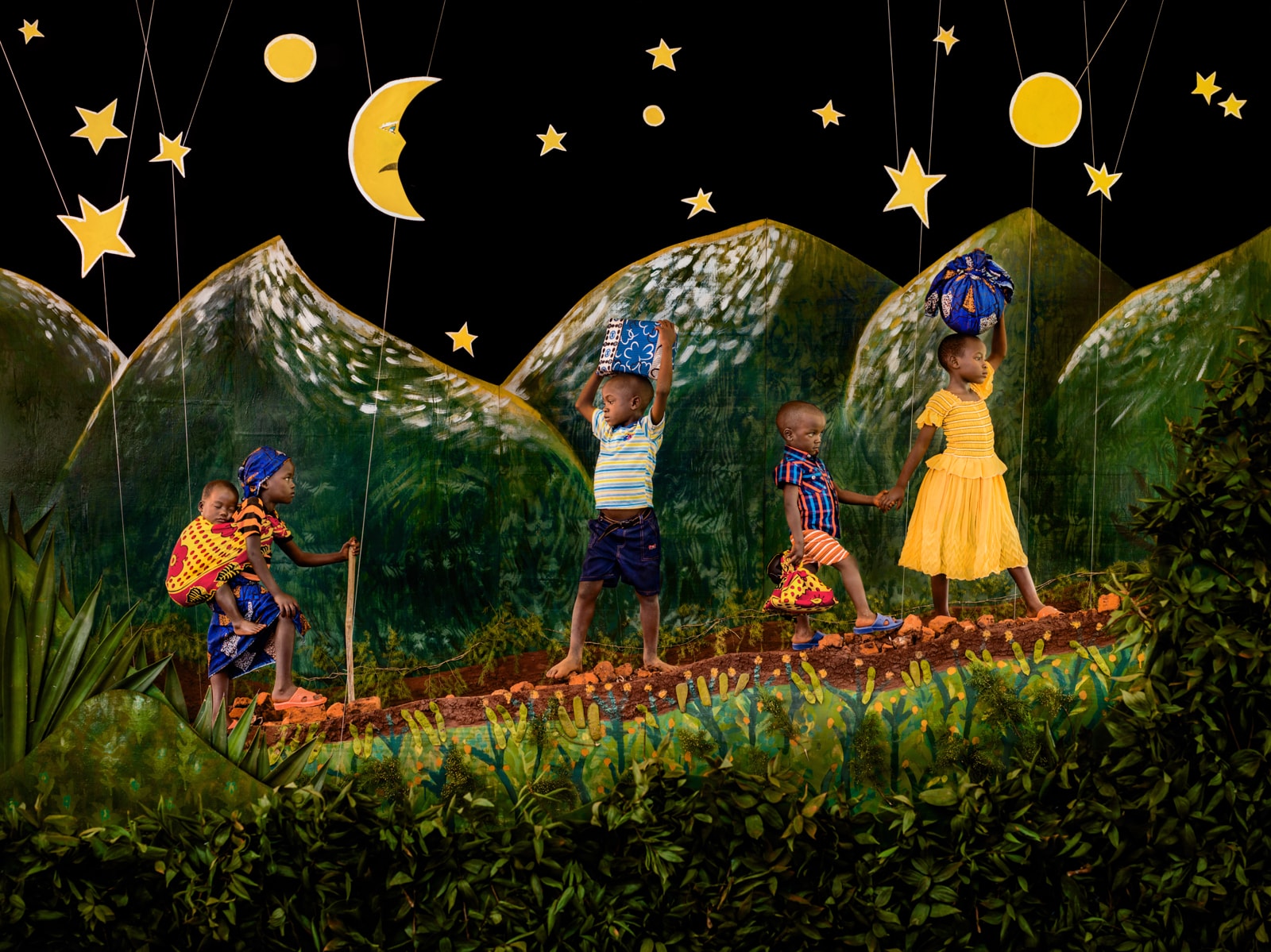 Launch 9pm 5 May
Running 8-31 May
The Copper House Gallery
St. Kevin's Cottages, Synge Street, Dublin 8
Opening Hours Mon-Fri 10am-5pm
The Art of Survival is a commission for international charity Save the Children, and has been produced in collaboration with refugee communities, depicting what it's really like to be a refugee child.
This series goes beyond the usual news reportage imagery of refugee crisis, bringing a fresh approach to humanitarian story telling. The elaborately staged scenes bear witness to the hopes, fears and challenges faced by Burundian children seeking refuge in Tanzania, and Syrian children who have fled to Lebanon. It explores past memories, present-day realities and dreams for the future.
There are over 3.5 million refugee children around the world out of school. Without an education, these children have no future. Internet search for children refugees generate thousands of similar looking images. Willocq felt that repetitive broadcasting by popular media meant these stereotypes did not work anymore and that a different way of story telling was required. He wanted to humanise personal stories hoping people would take notice of the breadth and complexity of children seeking refuge, and was totally committed to taking every chance to put a human face to children refugees and to deliver fresh and unique photography.
The idea was to show real children and tell their real stories, by involving the subjects, listening to them, creating a decor together with them, by staging their lives and their desires. Through participative and performative staged photography, Willocq wanted to have real children role play themselves to tell stories in a unique visual way while upholding their dignity. This art project was going to provide a rare chance for the children refugees to express themselves and he wanted the resulting photos to be empowering representations of these children.
Patrick Willocq is a self-taught French photographer and has lived and worked 34 years in diverse cities throughout his career. In 2012, and following a trip back to the Democratic Republic of Congo (where he grew up), Patrick decides to devote himself entirely to photography. His artistic work is about documenting the world we live in through carefully composed performative images in collaboration with local communities, thereby offering a different image of the world, which go beyond images which media tend to focus on.
Since 2012, his work has been nominated, finalist or winner of 12 prestigious international awards including SFR Paris Photo 2012, Leica Oskar Barnack Award 2014, Discovery Award Rencontres d'Arles 2014, Sony World Photo Awards 2016, Prix Coup de Coeur HSBC for Photography 2016. His work continues to attract the attention of the jury of international festivals as well as the international press. Patrick is represented by Vision Quest in Genoa and Project 2.0 in The Hague.